When your business is conveying information, clarity in writing and clean design are essential.
Instructions in manuals need to be complete and make sense.
Information in reports and booklets needs to be easy to understand and to the point.
Materials need to be designed so readers can access information quickly and easily.
We write, edit, and design publications that your customers "get." All of our work emphasizes plain language. That doesn't mean we dumb down your message. Instead, we use clear and precise writing to illuminate your information.
Plain language saves time and money because it helps the reader find information faster. It is persuasive. It is writing to express, not impress.
The next time you have information to deliver — from a small guide to a
book-length project — talk to us.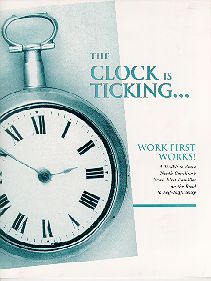 Project Example. For the manual, "The Clock Is Ticking," we created a cohesive and effective document from the reports of numerous committee members involved in the Work First project in Guilford County, North Carolina. Information was delivered to us in everything from handwritten notes to long reports on disk to email messages. We even acquired some information through interviewing sources. Then we organized the information, wrote the text, and designed a manual that included not only useful information and human interest details but also several tables noting step-by-step processes. After the committee reviewed proofs of the manual, we worked with committee members to incorporate their changes in a final document. The publication was successfully used to present this model program statewide.