Excellence in Print Books and eBooks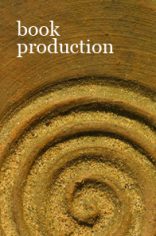 We believe every book should be as good as it can be. That's been our mantra since 1990 when we started providing book production services to publishers. In today's fast-changing publishing world, quality is essential. With social media, word of a poorly edited book or sloppy eBook formatting can spread like wildfire. You can lose readers — and maybe never get them back.
Capture loyal readers who will seek out your products again and again with our quality book production services: editing, interior design and typesetting, cover design, and eBook formatting.
We also design, build, and maintain author websites and provide publishing consultation.
We work as an overflow resource for fully staffed publishing companies and as the primary editorial and design consultants for more bare-bones operations. We have helped many first-time self-publishers navigate the tricky waters of book production.
Editing
Every book needs professional editing — and that doesn't mean a stamp of approval from your cousin the lit major or your old college professor. Our goal is to take your writing to its highest level while still maintaining your style and personality. We provide line-by-line editing; analyze sentence structure; and look for typos, inconsistencies, and grammar and punctuation problems. We provide a FREE sample edit of a few pages with our quote.
Interior Design & Typesetting
We give your book a clean, professional look that is a pleasure for your readers and that helps your book compete with the thousands of books introduced every year. The design process includes creating a professional look for your book, font selection, header and footer design, possible use of sidebars and readouts, and graphic embellishments. (See some of our sample interior designs.) In the typesetting process, we are concerned with details. Attention to design and typesetting details separates the quality book from its shabby cousin.
Cover Design
Yes, people do buy books by their covers. Your cover markets your book. It has to cut through all the noise — on the bookstore shelf and on Amazon pages — and intrigue the reader's eye. It has to demand, not with the squeak of a mouse but the roar of a lion: "Open me." Our artists can work with you to create a compelling cover appropriate to your subject matter. Check out some of our sample covers.
eBook Formatting
Smart publishers make sure their books are available in all formats: print and digital. We can format your book for Kindle and other eBook readers. We don't just run your book through a software program. We give your eBook as much attention as a print book.